Akers Ellis has partnered with VayKGear, a beach gear delivery service provider, to offer beach gear rentals to our guests!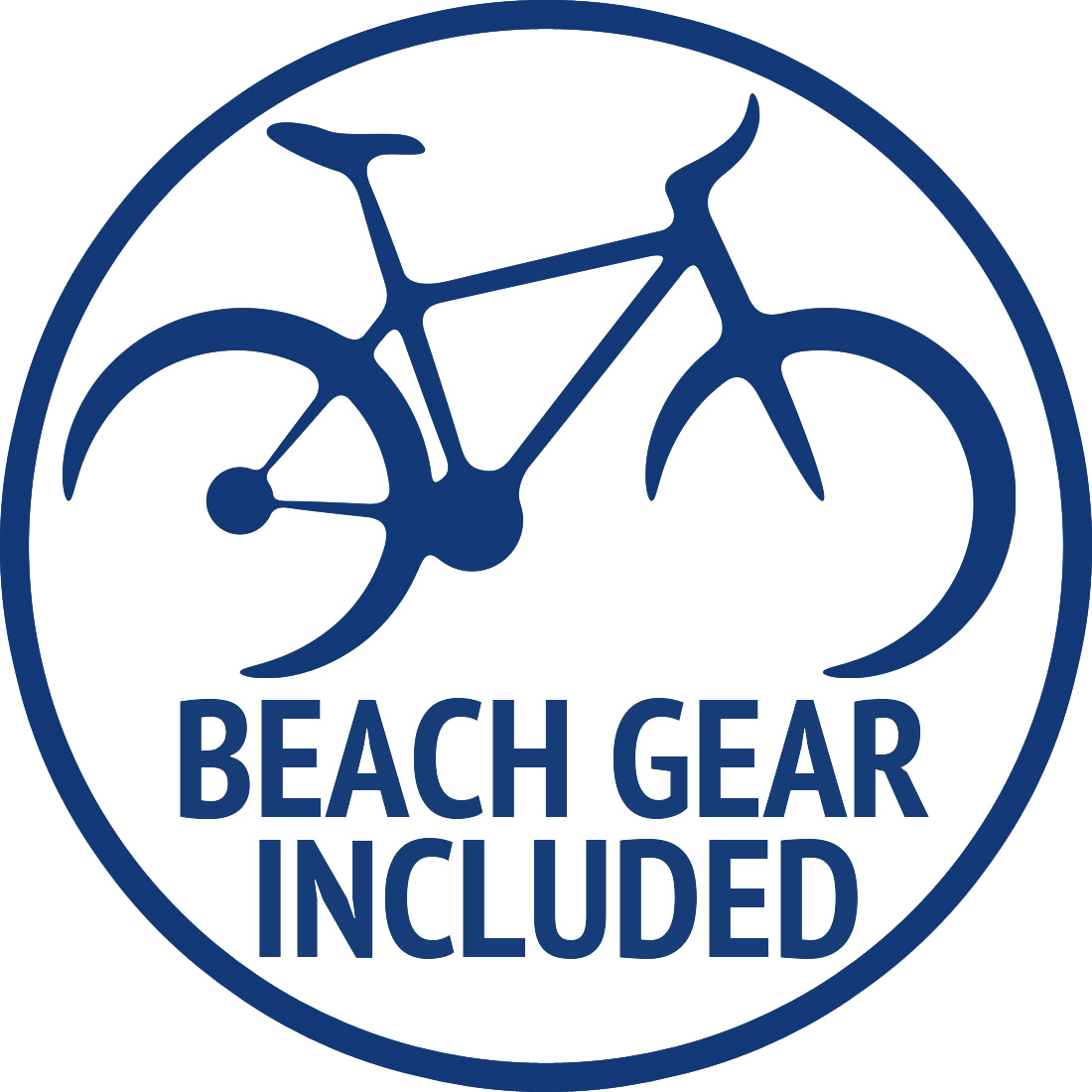 Guests with reservations of 3 to 21 nights at participating Akers Ellis properties will receive a credit towards beach gear rentals during your stay!* The credit amount varies per property type and can be found within eligible properties' descriptions. You may use your credit for bicycles, chairs and umbrellas, beach carts, boogie boards, and more - the choice is yours!
Once you've made your reservation at one of our participating Kiawah Island vacation rental properties, watch for an email (sent 45 days prior to your arrival) from VayKGear to make your gear selection via the Akers Ellis customized beach gear website. If you reach the credit limit, you can still add additional items priced at their exclusive, discounted rates. To keep your vacation stress-free, your gear will be delivered to your rental property on the day you arrive and will be picked up the day you depart.
PLEASE NOTE: From mid-spring to early fall, beach gear inventory —especially bicycles— are in high demand and may be limited. We recommend reserving your gear as early as possible.
*Credit is applicable to guest reservations of 3 to 21 nights only. There is no cash value if the credit is not used. Some properties do not participate in this program and will not have any reference to beach gear credit in their property descriptions.
---
 QUICK LINKS
---
 GUEST COMMENTS
Akers Ellis guests love our partnership with VayKGear, including these past guests:
Amazing experience. Our equipment was there when we arrived so we could use them straight away and then we didn't have to worry about dropping off before we left. Great service!
I highly recommend using VayKGear for rental of your beach gear. We rented bikes from them last week. They are extremely dependable and their beach gear is always in excellent condition!
We have been coming to Kiawah since 1997. This was our first experience with VayKGear and was most definitely positive. The difference was in the quality of the bicycles. No flat tires, no seats that won't stay put, no bikes that are so rusted they should clearly have been replaced. Thank you! We will definitely take advantage of your service in the future!
The beach rental credit included in our rental was an unexpected but greatly appreciated add on! The cart for the bike was a huge game changer for us, too!
VayKGear delivered on time and our bikes were ready to use when we arrived. It was a simple and great process!
Our experience with VayKGear was amazing! We reserved necessary items online weeks before our trip and arrived at our home for the week with our gear waiting on us! The bike cart made transporting items to the beach a breeze. Leaving the borrowed items when we checked out was so convenient! This made our rental experience so much better!!
Very convenient, we have rented multiple times through VayKGear.
We had a great customer service experience, including when we needed to change out one of our bikes. A VayK delivery driver going by our house stopped and helped immediately. She couldn't have been nicer or more helpful. Deeply impressed by this positive interaction.
Using VayKGear was a great option for us, especially since we had to pack a full car and didn't have room for our beach buggy. The items we reserved were at the house when we checked in to the house. Great service!
We had a very positive experience using VayKGear. Will definitely use them again.
Great equipment and great service!
Having a beach gear credit with VayKGear saves a lot of space when packing for a family vacation. Additionally, because we generally don't stay oceanfront, using bikes and backpack chairs makes the trip to and from the beach a breeze!
It is so convenient to have the gear waiting for us upon arrival! I love that most of the cost is covered! The bike carts are a wonderful invention.
The beach gear added value to the stay and was delivered on time. We had a lot of fun and got a lot of use out of the bikes.
You can't beat the convenience! And, the added bonus of not having to transport bicycles.
Bikes at Kiawah make our vacation more enjoyable and VayKGear makes that happen. Thank you!
The communication from you guys was awesome! Very attentive to your customer!
VayKGear made our beach days extra convenient and more fun!
Great perk! We really appreciate the $300 credit! Perfect for our large group!
All gear was in great shape...there on time...and exactly what we ordered. Much better than having to haul it all in the car.
VayKGear does a great job with delivery and keeping us updated on things. This is the 3rd or maybe 4th time we used this company and have no complaints!
Bikes were great and a wonderful addition to our vacation!
We love biking at Kiawah and being able to rent the bikes as an added bonus through our condo rental was great. They were available to us from the time we got there until we left. No hassle! Thank you.
Our adult bikes with locks, bike pull-cart, and boogie boards were at the house when we checked in. The cart came in very handy when biking to the beach! The boogie boards were lots of fun. The bikes rode well and the tires were all full. So glad that we had them throughout the week to ride to the beach or just to get out and ride the bike trails!
Communication was A+ and timely. We had one flat tire and the response time was supersonic fast. Also love that bikes and gear were labeled with our name.
We have used this for several trips to the beach and we are always happy with the bikes and service we get!
Great experience from ordering to returning!
On time and the gear was perfect!
Great experience. Very easy and convenient. Response was very quick when we had questions.
Bikes and wagon worked great. Will rent a bike wagon on all future trips to carry beach gear. Included bike locks were easy to use and worked well.
The beach chairs and the bikes were in great shape and really added to the vacation. The pick up and delivery were wonderful!
All equipment was delivered properly. Good selection of items to pick from. I appreciated the kayak availability and the cooler was key!!
Very pleased with the service. When I had an issue, they promptly resolved it.
Excellent service. It made our trip so much better since we didn't have to bring bikes with us.
So convenient for people who are not able to drive to the beach and bring their own gear!! And so easy to use!
Super convenient and in great shape! Not some rusty old gear. Definitely glad we didn't have to pack and bring our own stuff and cramp up the car.
The VayKGear program was very helpful! I recommend booking early and take the worry away!
Receiving beach gear and having it picked up is a wonderful perk that came with our rental. It saves time and energy from having to pack these items for long road trips.
Good quality, very clean equipment. Delivered before our arrival. Would definitely recommend.
We loved the ease of having our bikes and chairs without having to haul our own down.
Very convenient. Loved the price.
We love the service and appreciated being able to communicate via text, even after hours.
Easy, efficient, good value.
A great place to rent more things than just bikes.
Gear was delivered on time and was in excellent shape.
It was great having extra room in my car because we did not have to bring bikes, umbrellas or chairs!
We love the service of having the beach chairs and bikes delivered to the house.
This was so easy and perfect for our family! Thank you!
The process was very easy. We have used this service for several years now.
It was great not having to pack bikes and a cooler. The items were there upon arrival which was great. Everything was communicated very clearly and efficiently.
I love VayKGear! It is such a nice perk and we will happily use it again!
Staff was extremely helpful and professional.
Loved having our gear on site when we arrived. The cart was the best, it made getting all of our supplies to the beach so easy.
Excellent service with very nice bikes
Having bikes ready to go when we arrive is an absolute must! We rode everywhere when on Kiawah!
Very good service. Prompt delivery.
It was easy & definitely nice not to bring all of our own gear!
The process was super easy to reserve rentals online! Rentals were delivered right to our door! Chairs were comfy and umbrellas were easy to put up. Using our beach gear credit was a great addition to our vacations by not having to worry about bringing sand covered chairs on the 8 hour drive! Once you use rentals, you will never want to load all those items in the car again!
Super convenient, good quality.
Loved having the gear. Thanks so much for making it so convenient.
We loved the rental bikes and this was the highlight of our stay.
Very easy to order bikes! The bikes were at our residence when we arrived.
We rented bikes for our stay -- they were delivered as promised and added so much to our time on Kiawah Island. Thank you!
It was wonderful not having to transport our bikes. We enjoyed our bike rides on the beach so much!
Akers Ellis VayKGear beach gear rental was so quick and easy! One less thing to worry about when you arrive on the island.
The process was easy. The bikes and chairs were at the house when we arrived. All was good.
Bike delivery process was very convenient. Dropped off and notified upon delivery. Right next to the condo. Very convenient pick up as well. Bikes were a great addition to our stay on Kiawah.
They were very easy to work with and gear was waiting on us when we arrived.
It was so easy and hassle free. Such a convenience to have the items delivered to our rental and picked up at the end of our vacation.
Seamless process!
It was easy to use and so nice to arrive at our condo and see the beach gear there.
Excellent service!
Delivered on-time. Clean and in good condition.
Talk about responsive! We forgot our code and our email request was answered swiftly! Also, one of our bikes had a flat tire and it was repaired promptly. Thank you!
So great to know we had everything we needed waiting on us!
The bike trailer makes hauling stuff to the beach easy from anywhere on the island. Thus making all rentals an option, not just the rentals close to the beach.
Delivered on time and so convenient we didn't have to pack our own.
The process was easy and we were very impressed to find the bikes at the rental when we arrived.
The VayKGear (bikes and beach cart) were waiting for us when we arrived. We found the beach cart extremely convenient and being able to unload and load the beach gear right on the beach saved us a lot of hassle. We biked a lot in the immaculately maintained trails in Kiawah Island and would definitely rent gear again in our next stay.
The ordering of beach equipment was easy on their website. It was waiting for us when we arrived. It was a good value and I would use their service again.
Thank you so much for your excellent customer service. We received our bikes on time, and as directed.
First-class experience.
Having a credit to rents bikes, beach umbrellas and more was such a great perk! The gear rental process was so easy and definitely made our stay on the island even more fun. Thanks! A++
This is now the second time I've rented with Akers Ellis and the Vaykay gear credit definitely played a role in my decision.
This was so handy and a great perk to the beach vacation!
The bikes were awesome! Couldn't have been any easier!
We were VERY pleased with the quality of service, and the equipment we received. Everything was so easy! We LOVED the bikes. We will definitely use this service again.
The beach gear program is great! We love it. We had one damaged umbrella and it was swapped out immediately. We couldn't ask for more!
Very convenient, with high-quality products.
Beach Gear included was a very nice incentive.
It's a great add to renting the property. We enjoyed the bike rides in the evening.
Great bikes in excellent condition. They were waiting on us when we arrived.
It was a pleasant surprise to have a beach gear rental added to our stay.
Bikes were at our unit when we arrived just as ordered. So nice not to have to pick up.
Very convenient to pre-order equipment.
My family loved the beach gear, and it was so wonderful to have the cost of it included in the price of the rental! The bicycles were especially loved and an integral part of our vacation!
Good clean and newer beach gear. Very sturdy. Nice stuff!
It was nice as I didn't have to find a bike rental company.
Using Beach Gear was extremely helpful. It was easy to select, there when we arrived, and we used everything throughout the week. Text messages of updates and information also helped. Would definitely use again.
This was an added bonus that helped our family enjoy our time at the beach.
Having beach gear included in our rental took a weight off our shoulders. It was nice to not have to worry about packing bulky chairs and umbrellas.
The experience was great. The beach cart was fantastic! Easy to use and manipulate either on the bike or by pulling on the beach.
The program was a big value and convenience to simply include the dollar amount and the selection process in the same process as the villa rental. Very easy, simple and super convenient!
The convenience and service were superb. The quality of the bicycles was also excellent.
Thank you Akers Ellis for making the vacation rental process so easy, enjoyable and better each time we visit! The Beach Gear Included Program was a BIG hit with our family!


Loved the beach gear credit! We'll be back!

The Beach Gear Credit worked out great!

We loved it! Great bikes and gear, and we will look for an Akers Ellis rental because of the fantastic experience.

So convenient and equipment and bikes were all brand new.

This was a great convenience for our family! We were beach ready on our first day with comfortable chairs and large umbrellas. A great service!

Great service! Bikes, chairs and umbrella in excellent shape! Got lots of use!
Thank you for adding the Beach Gear Included program. We loved having chairs, umbrellas, and a cooler waiting at our front door. The bicycle and wagon made trips to the grocery store at Freshfields Market very efficient.

It was so wonderful to have all our beach gear waiting for us upon arrival. The gear was clean and new like!

Loved how easy it was to add bikes and chairs to my stay - really a very nice added benefit! Normally I'd have to look up some bikes places, confirm rates, compare and then book. Great benefit with simple online ordering.

We ordered bikes and chairs and they were in excellent condition. I made a mistake on my order and they were happy to correct it for me. The beach gear credit is a bonus!

It was so convenient to have the bikes delivered and picked up right to and from our condo. The bikes and locks were in great condition and we really enjoyed using them.
The bikes were much better than those we've typically rented on the Islands. Clean and rust free.

We truly enjoyed the bikes that we rented for the week and the process couldn't have been easier. Thank you for making our vacation even more relaxing by having it delivered and picked up as well.

Having those bikes and that surfboard sitting and waiting for us when we arrived was an excellent addition to our trip. I have a feeling we'll be using this service again!

We absolutely loved that the 'beach gear,' in our case bikes, was included with the rental. The bikes were in great condition and we would definitely choose to rent again if the beach gear is included.

The beach gear put the trip over the top for us. This is one of the main reasons we used Akers Ellis; other companies did not have this included.

Using the Beach Gear Included program saved us so much room in the car! We also weren't lugging everything out of the car and up the stairs to our condo. Very convenient!

Great value! This was a deciding factor to go with this property vs another due to the rental credit.

We were very excited that we were able to book beach gear for our trip. We rode bikes 2 of the 4 days we were there and it was a great way to explore and see what the island has to offer. Our beach chairs were great quality and very comfortable for lounging on the beach. It is very convenient because our items were there waiting for us on arrival and were picked up after our departure. It definitely added an experience we wouldn't have had otherwise if not included with our rental!

Bikes were great and seemed like they were brand new. So convenient and nice to have the credit!

The bikes and chairs were great to have during our stay. We appreciated having them delivered right to us. We had a great time riding around the island.


Great quality gear (bikes, chairs and cart were the best we've rented yet) and easy online selection process!

Great bikes. Comfortable and easy to ride.