5 Aug 2022
Successful staging is one of the keys to selling your home as well as giving a warm welcome to interested buyers. A staged home can help potential buyers better visualize the space and imagine themselves living in it. Here are a few helpful tips and suggestions to help stage the perfect home.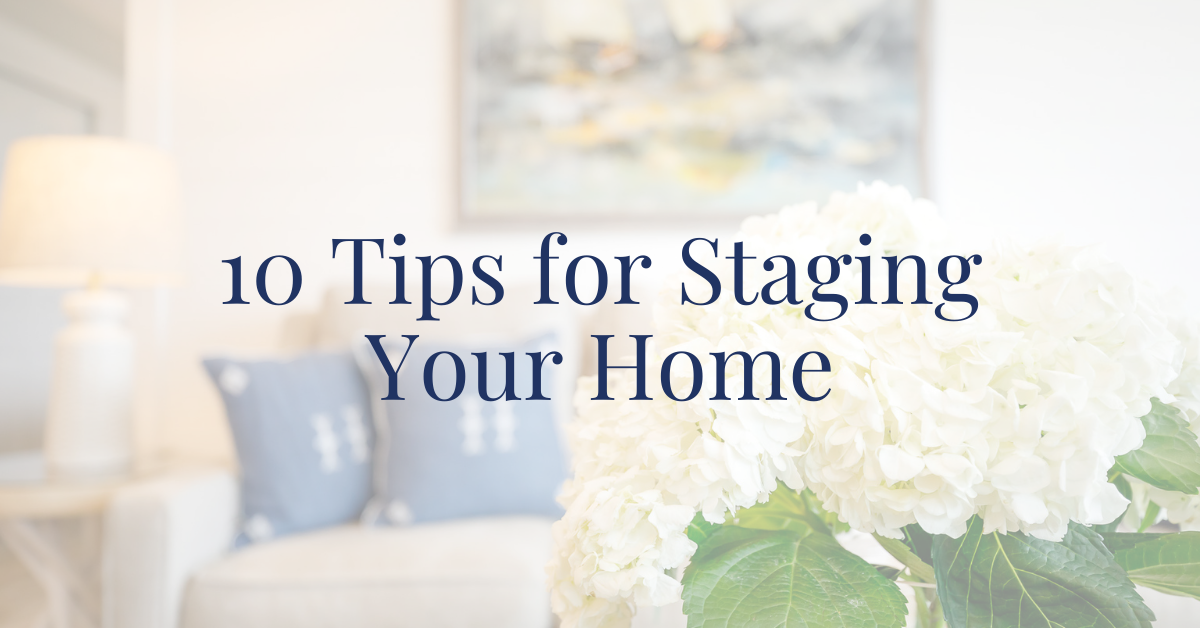 What is Home Staging? 
Many people think of staging as adding furnishings or decorative accents. In reality, it encompasses much more than just decorating. Staging is anything that helps "set the stage" for homebuyers. While staging certainly can mean adding furniture, it also refers to cleaning, rearranging, and making enhancements to increase the overall appeal.
Why is it Important?
When selling your home, it is crucial for potential buyers to be able to imagine themselves living there. This can sometimes be tricky if the home is unfurnished or if it is filled with distracting clutter. Not only will staging make a great impression at showings, but staged properties also look better in photos, which can help attract more interested buyers.
Quick Tips for Staging Your Home
1. Boost curb appeal.
You likely hear about the importance of curb appeal all the time. When a home offers great curb appeal, it's a lot like having a great "first impression" on potential buyers. Even if there is no appointment scheduled yet, often, potential buyers will drive by to simply see if it's worth a look inside. A few suggestions to enhance curb appeal: pressure wash the siding and walkways, make sure house numbers are easily visible, plant blooming flowers or greenery, mow the lawn, wash windows, and repaint if needed.
2. Make sure the inside is sparkling clean.
This seems like a no-brainer, but it's a key step to helping the house make a positive impression. It's common to hire professional cleaners to do the job to ensure the best cleaning possible. If your home has been a rental property, this is also a very vital task. It's amazing what a little elbow grease and the right cleaning products can do for a property!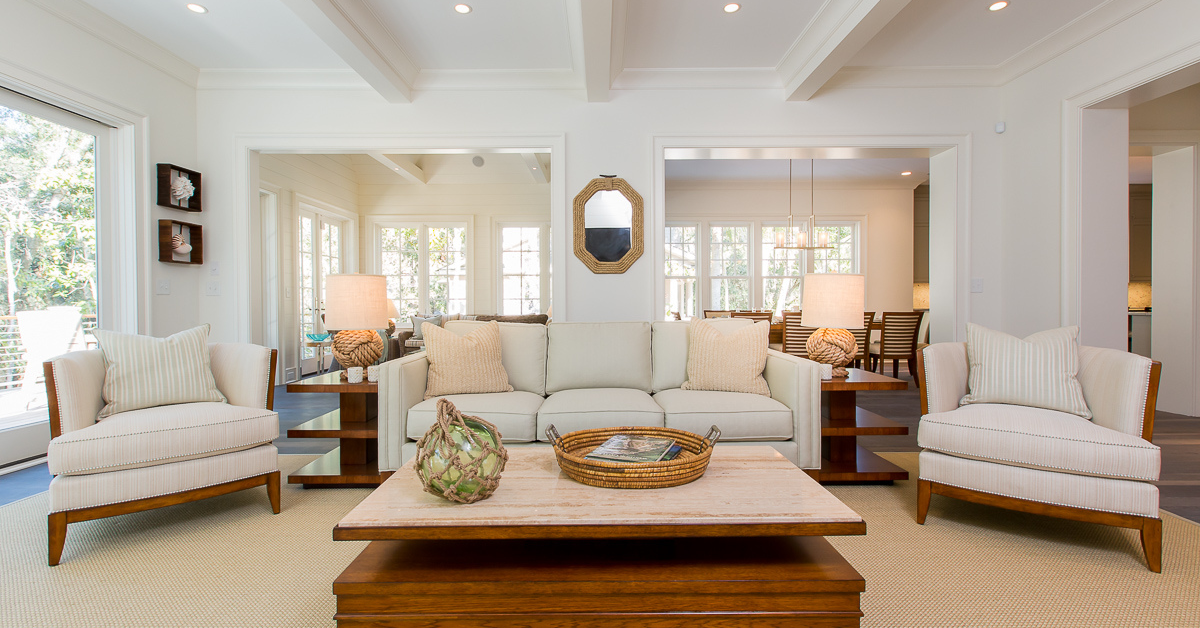 3. Clear clutter and add tasteful décor.
When selling a house, it's important to clear away all clutter. Cleaned surfaces and cupboards equal more space in a potential buyer's eyes. It's also a good idea to organize toys and the kids' rooms. After the clutter is gone, emphasize small additions that will make the space more appealing. Such as a vase of flowers, a bowl of lemons or fresh market produce, or unique baskets filled with items that are relative to the location (i.e. sea shells if it's a beach property).
4. Focus on the floors.
Shiny wood floors and freshly steamed carpets are a great touch to create an inviting, clean atmosphere and boost a potential buyer's interest. Adding area rugs, hallway runners, and bath mats to hard surface floors can help tie a room together and make it appear more welcoming.
5. Choose the right colors.
Neutral colors such as white, beige, or gray create a sophisticated but impartial look that appeals to nearly everyone. It also makes it easier for the buyer to imagine their own furniture and decorations in the room.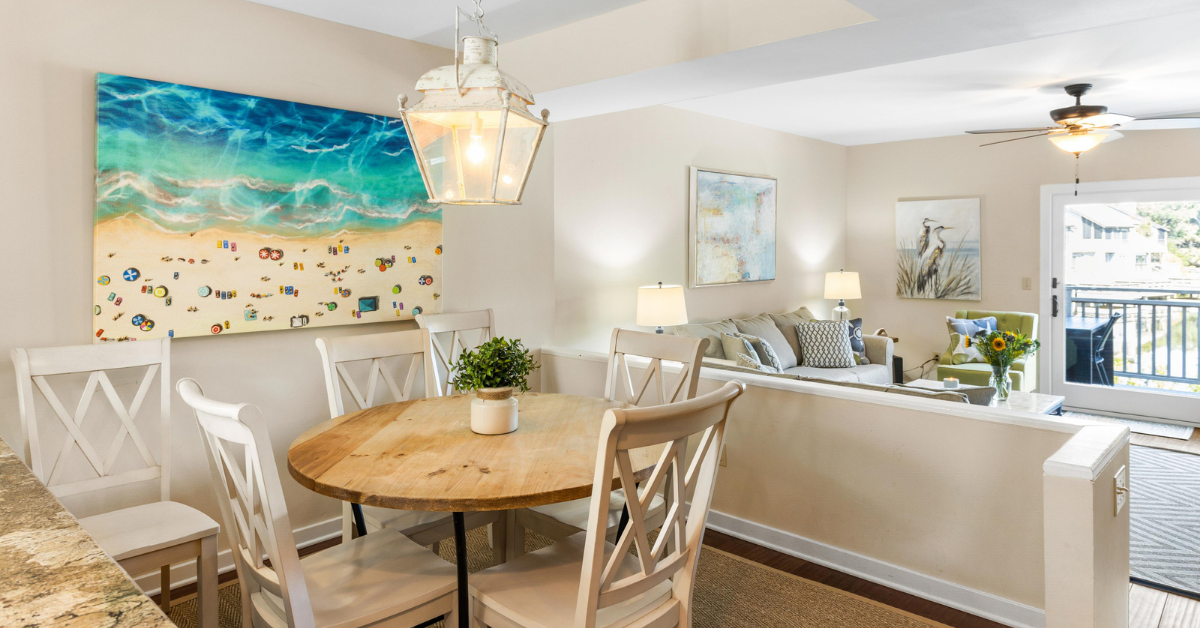 6. Welcome potential buyers to explore the entire property.
Hang a piece of beautiful artwork or hanging lantern at the top of the stairs. Paint an accent wall visible from the hallway. Create a window seat, place a colorful rug in the hallway, or decorate an unused corner. These are all clever touches that keep the interest of potential buyers. 
7. Take care of pet odors.
This can make or break the first impression and, ultimately, the sale of the property. It's important to steam clean all rugs and carpeted areas, especially because many people have pet allergies. Also, make sure to hide pet toys and bowls during showing appointments. 
8. Design an atmosphere that reflects the interest of the potential buyer or of the location.
In a family-friendly neighborhood, a swing set, sports games, or screened porch would be great assets. If it's a private beach home or condo, a hammock or nice Adirondack chairs would be a thoughtful touch.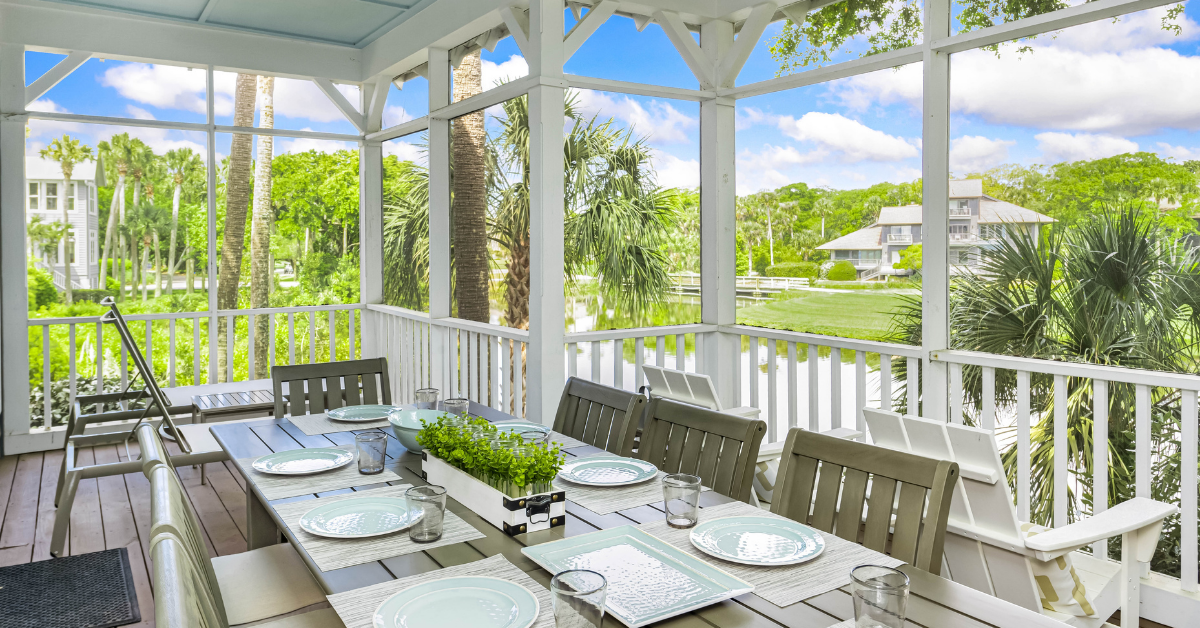 9. Don't forget to stage the outdoors.
Although some spaces may be small, a bright tablecloth with a candle or flowers is appealing to potential buyers. A larger patio would look great with a fire pit or a generous ceramic planter. Again, staging is all about helping buyers see possibilities!
10. Clean up all outdoor features.
Make sure the pool is vacuumed and free of leaves and debris. Sweep or blow off the driveway, porches, and patios. Clean fire pit or fireplace. Having these items clean and ready to use is alluring to potential buyers.