8 Aug 2017
You've scoured Pinterest, talked to designers, and have gotten tips from all of your favorite southern style magazines. Whether you're looking for a fun weekend project or ways to increase home value, we're bringing you our favorite interior design trends of 2017, with a southern spin. Spruce up your historic Charleston home or lighten up your Kiawah Island cottage with these picture perfect decor ideas.
2017's Top Interior Design Trends
Bring the Outside In
Bring the outside in with natural colors and materials that go beyond adding a fake potted plant. Utilize relaxing sky blue tones and sandy hues to make rooms feel like you're at the beach, right inside the comfort of your home. Or, shake up your walls with a green accent wall and let a fern or sage green liven up your space. Utilize earthier materials such as wood, wicker, clay, cork, or worn metal finishes for lamps, wall decor, and furnishings. This look is perfect for your Kiawah Island beach house.
Jewel Tones and Velvet Furniture
Jewel and velvet instantly add a splash of luxury to your space. If you have a space with dark walls and floors, consider adding a pop of color with a jewel-toned velvet couch or simply adding a few jewel throw pillows, lampshades, and decorative pieces. Deep purple, navy, and dark green could make a great addition to your room, especially a family room in a classic Charleston Victorian!

Spruce up Your Bathroom
Revamp your bathroom without blowing out your budget. Add floating shelves to free up counter space and provide a spot for a decorative touch or simply ditch your old shower curtain for a simple white cotton shower curtain that will instantly brighten up the space and make you feel right at home in your own personal spa.
Try the Dark Side (or Decor)
Add a little drama to your life with dark paint and "cozy" shades of black. If black is a bit too heavy for your taste, warm up with a deep chocolate brown. Matte black light fixtures and faucets can also be a great addition to your kitchen or bathroom.
Farmhouse Style
Arguably one of the biggest trends at the moment and a favorite of ours, Farmhouse Style is marked by painted kitchen cabinets (usually white), painted wood planked walls, rustic tables and furniture, and burlap. Whether you're living in the countryside, in downtown Charleston, or on the beach, a touch of Farmhouse style can help brighten or soften a space, and can be a fun compliment to modern appliances and décor.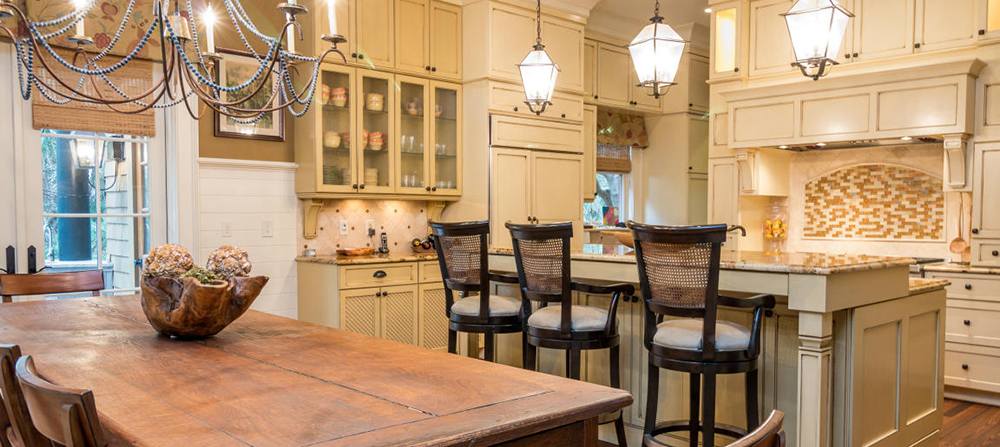 Mix and Match Furniture
Why buy a whole family room set when you could pick out a few of your favorite styles? Individuality is the spice of life. Make your living spaces feel all your own. Combine a leather couch and a velvet chair or a jewel-toned couch with a more natural material loveseat.
Contrast in the Kitchen
Contrasting black and white will never go out of style, but if you're looking for something a bit different, and warmer, try warm gray cabinets with deeply stained chocolate wood accents. If you can't part ways with your sleek, modern black and white look, consider adding rustic wood floors.
Go Gray
If the thought of tan walls make you cringe, white seems a bit too stark, and you are looking for the perfect neutral color, meet "greige", a mixture of gray and beige. Think cool, contemporary sophistication meets warm earth tones in a combination that can fit nearly any color scheme a room currently has. No matter if your space has cooler or warmer tones, greige will rise to the occasion.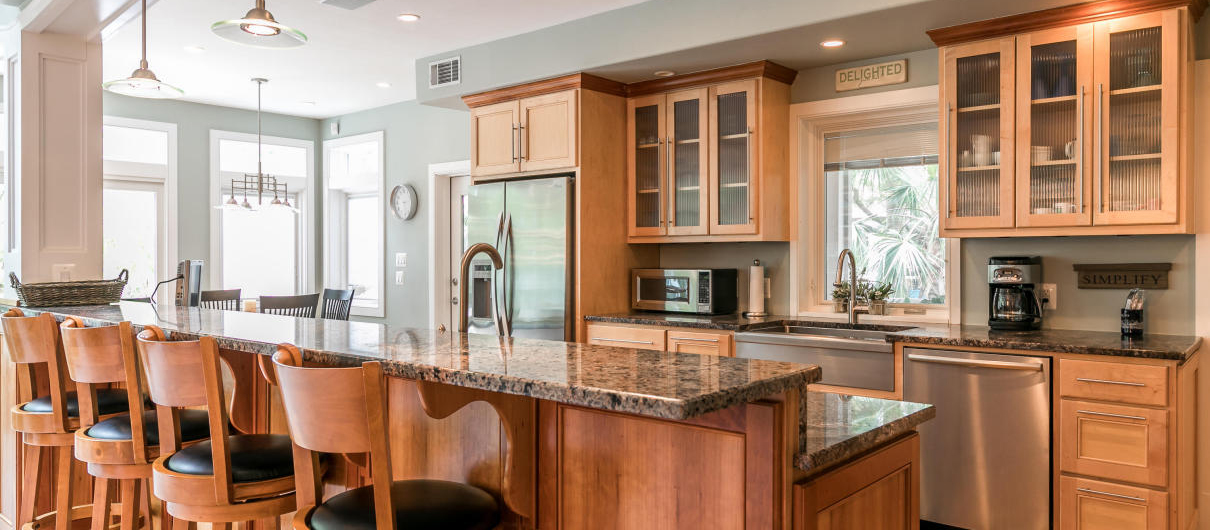 Crazy for Quartz Countertops
With durability, style, and a wide array of colors, Quartz countertops are in. Whether you're a family that needs a countertop to stand up against your kids or more of a chef-in-training type, Quartz is resistant to spills, scratches, and heat.
Accessorize with the Seasons
When you walk into friends' and neighbors' houses, do you ever feel as though their house gets a complete overhaul nearly every season? Updating accessories throughout the year can be a great way to freshen up your home and give your rooms a new look without breaking your budget. Heading into fall, consider some darker colored accent pieces and chunky throw blankets. Moving into spring and summer, bust out the wicker baskets and pastel décor and accent pillows.