9 Jun 2017
Kiawah Vacation Rentals Made Easy
Akers Ellis Real Estate and Rentals is proud to showcase our BRAND-NEW website that has made searching for vacation rentals on Kiawah Island effortless and simple. The well thought out tools on our site are designed to assist guests while searching for a property to host a weekend with friends, family reunions, summer vacations with the kids, or romantic getaways. Our vacation rental section on our new site is guaranteed to offer you the easiest booking experience on Kiawah Island!
---

This is the tool to use if you want to see all vacation rentals managed by Akers Ellis. From that page, you will be able to see information like number of bedrooms, number of bathrooms, how many guests it sleeps, what area of the island it is on and what community it is in. This is a great way to better understand all the properties that Akers Ellis has to offer.
---
If you know you are specifically wanting a home or a villa/cottage, we recommend using this tool to narrow down your search. On this page, you will still be able to see basic information about the property to help make your choice a breeze.
---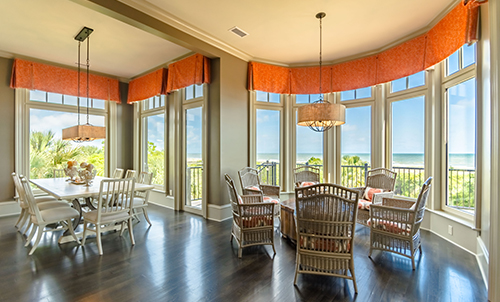 This tool should be used if you know you are wanting to be able to see the beautiful water and Kiawah Island sand from your rental. Whether it's a villa, cottage or home, they will all be listed when using this search tool.
---
These 3 different tools can be used to either find properties with a private pool/community pool access, to find properties by location such as the Vanderhorst Plantation, East Beach, West Beach, a specific community like Atlantic Beach, Windswept, Tennis Club, Duneside, etc., or to see if Akers Ellis has any specials occurring for your desired dates.
---
 Ability to Share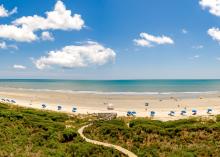 Our new website offers 4 different ways to share with friends and family. You can share favorites, specific listings, pages and search results. Here at Akers Ellis, we think the favorites features and search results will come in handy the most when picking a vacation rental with friends and family. For favorites, simple click the heart in the top left-hand corner of the picture of the property. You can click as many as you would like. When you are ready to share your favorites, simply click "My Favorites" at the top of our webpage. There will then be a blue "Share Your Favorites" button where our site will then prompt you to enter the email address of the people you are wanting to see your favorite homes, villas and cottages. The search result feature will be useful when you have specific requirements you want for your vacation such as date, proximity to ocean or property type. Simply narrow down the search with your requirements then click the blue "Share Results" button. You will then enter the email address of the people you would like to share your search results with.
---
 All-New Responsive Design
Our new site has an optimized design so that you can search our vacation rentals on every electronic device you use. Browse our website on a tablet or mobile device for a much-improved user experience from looking to booking.
---
We hope you will visit the new website at www.AkersEllis.com and familiarize yourself with the new design. And while you are there, make sure to sign up for our monthly newsletters!
Save
Save
Save
Save
Save