19 Dec 2018
At Akers Ellis, we understand that finding the perfect vacation rental — in the perfect location — can be a challenge. Location plays a huge part in making sure your group is happy with your rental choice. Let us assist you in picking out which area of Kiawah you should book your rental villa, cottage, or home in.
If you're a seasoned veteran of Kiawah Island, you already know that our island is categorized into several sections: Freshfields Village, West Beach, East Beach, and the Vanderhorst Plantation. No matter what section you find yourself in, you will always have our pristine beach to enjoy. It is rated among the top 10 U.S. family beaches by National Geographic Traveler magazine. There are also many recreational activities such as golf and tennis, as well as fine dining and shopping close by that our guests can enjoy while on vacation.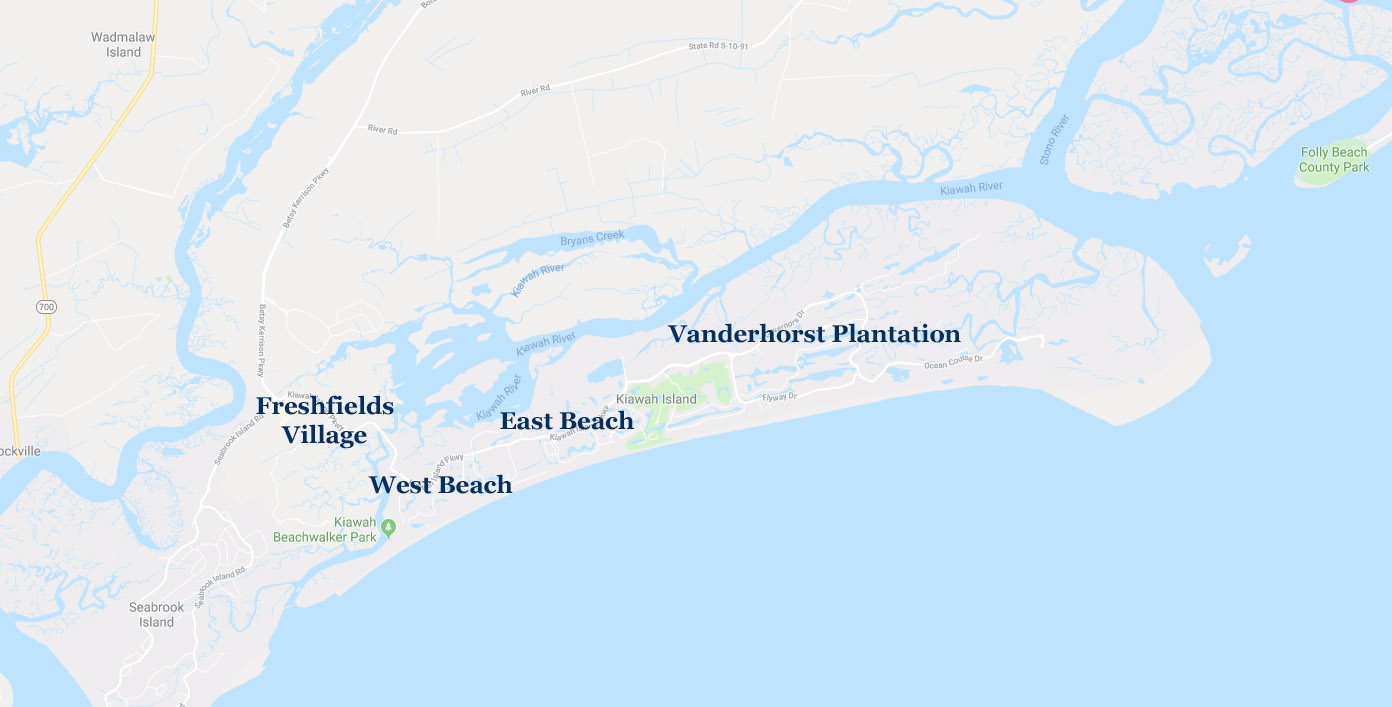 Map of Kiawah Island areas (above) adapted from Google Maps data.
Start exploring the areas of Kiawah Island and discover why Travel & Leisure Magazine has named Kiawah Island one of America's Top 10 Islands.
Freshfields Village 
Located at the crossroads of Kiawah, Seabrook, and Johns Islands, Freshfields Village is a unique town-center mix of shopping, dining, business, and service establishments in a stylish and relaxed outdoor setting. The Village Market (Harris Teeter) is the place to stop for groceries on your way to your vacation rental. Dining options at Freshfields Village range from gourmet coffee to casual lunch fare to elegant fine dining. Retail options include one-of-a-kind apparel, accessory, and home décor boutiques. The village also hosts over 60 events a year, including a seasonal farmer's market, outdoor concerts, cultural performances, and other family-friendly affairs. 
West Beach
Upon arriving to Kiawah Island, you head to the first gate to be let onto our beautiful 10-mile-long private island. West Beach is the first area you will come across on Kiawah Island Parkway. When it comes to golfing, Cougar Point Golf Club is one of the many golf courses located on Kiawah Island, and the only golf course located in West Beach.
West Beach communities:
Courtside Villas
Duneside Villas
Fairway Oaks Villas
Greenslake Cottages
Inlet Cove Cottages
Seascape Villas
Shipwatch Villas
Sparrow Pond Cottages 
East Beach
The middle part of the island, where Night Heron Park is located, is considered East Beach. Night Heron Park hosts The Nature Center, Kamp Kiawah, basketball courts, a playground, and a disc golf course. Make sure to book a tee time at Turtle Point Golf Course or reserve a court at Roy Barth Tennis Center. Nearby dining includes Tomasso and The Turtle Point Bar & Grille located at the Turtle Point Clubhouse, Night Heron Grill located close to Night Heron Park, and The Loggerhead Grill, Jasmine Porch, and the Ocean Room located at The Sanctuary Hotel. Also at the Sanctuary Hotel is a luxurious spa and gift shops to enjoy. For groceries, a bistro, and pizza in East Beach, head on over to The Market at Town Center.
East Beach communities:
Mariners Watch Villas
Night Heron Cottages
Parkside Villas
Tennis Club Villas
Turtle Cove Villas
Turtle Point Villas
Windswept Villas
Vanderhorst Plantation
Our most exclusive and private homes reside behind the second gate of Kiawah in the Vanderhorst Plantation. Osprey Point and The Ocean Course Golf Courses are located in the Vanderhorst Plantation. The Ocean Course is the premier golf course on Kiawah Island and host of the 1991 Ryder Cup and the 2012 PGA Championship. Additionally, The Ocean Course will be the host of the upcoming 2021 PGA Championship. It is one of only four courses in the U.S. to have hosted every major PGA event in the country. Nearby dining includes Cherrywood BBQ & Alehouse located at Osprey Point and The Atlantic Room and Ryder Cup Bar located at The Ocean Course.
Ready to Visit Kiawah? 
Take a quick look at our guest information guide on our website or give our rentals staff a call at 843.768.4545. We are happy to assist you in finding the perfect place to call home for a Kiawah Island vacation!