11 Nov 2022
Shop local this holiday season! Discover the best holiday gift ideas from brands, artisans, and vendors based right here in the Charleston area. 
Local gifts by interest
Finding the perfect gift can be tricky—which is why we've rounded up the ultimate list of gifts for everyone on your list this holiday season. Whether you're shopping for an aspiring home chef, avid outdoorsman or outdoorswoman, fashionista, coffee lover, or jet setter, you're bound to discover a gift that's just right in our local gift guide.
---
For the Home Chef
Looking for something truly special to gift the chef in your life this holiday season? We've cooked up some fantastic gift options! Keep scrolling to see the best local products fit for a gourmet chef. 
---
Assorted Spices from Charleston Spice Company
DIY Gift Basket: Pick 4", available from Charleston Spice Company, $46.00
Can't decide on the perfect spice set for your culinary aficionado? This DIY gift basket option from Charleston Spice Company allows you to pick any four blends you want, and they will even gift wrap them for you!
Charleston Spice Company was originally founded in 2009 by Garnette Tuten and Jeremy DiAsio, the pair began selling their blends at the Summerville Farmers Market every Saturday morning. However, it started even before that for Garnette in Peru, where she was introduced to new cultures and flavors that ultimately constructed her palate just as much as her southern roots.
---
 Fun Food Socks from WestSocks
The "Food Lover" Sock Set, available from WestSocks, $35.00
What do you gift a culinary aficionado that isn't food? Food-themed socks, of course! This set of five pairs of socks showcases fun patterns of french fries, burgers, and more.
Originally founded in Minneapolis, Minnesota, WestSocks is a family-owned business that relocated its operations to Charleston in 2020. Owners Matt and Molly are passionate about funky, unique socks and dedicated to providing the best possible customer experience. 
---
Serving Board from Restored Board
"Vintage" Style Serving Board, available from The Restored Board, $50.00
Handmade in Charleston from solid Cherry or Walnut, these serving boards are produced using food-safe adhesives and sealed with mineral oil and beeswax to protect your board for future years.
Husband and wife Shane and Katie are the dynamic duo behind The Restored Board. For Shane, woodworking has always been his passion as he grew up learning the ins and outs from his grandfather. His wife, Katie, handles everything marketing and design which allows them to spend more time together and one-of-a-kind products that also serve a purpose.
---
For the outdoor enthusiast
On the hunt for the best present ever? We've rounded up the greatest gifts for every kind of outdoor hobbyist in your life. From camping to fishing, there's sure to be a local product on this list you recipient will love!
---
Gift Card to SeaCoast Sports and Outfitters
Gift Certificate, available in-store from SeaCoast Sports, amount varies
Who doesn't love a gift card to their favorite store? You can't go wrong with a gift certificate! 
Located in Freshfields Village, local stop SeaCoast Sports and Outfitters offers the largest selection of sporting and apparel goods on the Islands. 
---
Convenient Folding Fillet Knife and Folding Cutting Board from Toadfish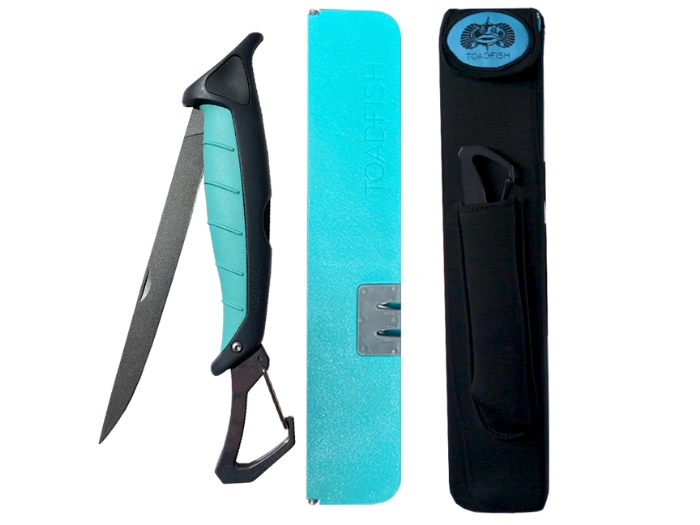 Toadfish 
Stowaway Fillet System, available from Toadfish, $72.00
Featuring a titanium-coated high-carbon stainless steel blade and the ability to easily fit into tackle bags, boxes, and kitchen drawers, the Stowaway Folding Fillet Knife is perfect for the fisherman or fisherwoman on the go. Paired with the Stowaway Cutting Board, your loved one will be all set for a day on the water.
Committed to producing quality products and cleaning coastal waters, Toadfish replants local oyster beds for every product sold. Toadfish was founded by College of Charleston graduate Casey Davidson and is based in Charleston, SC.
---
Trucker Hat from Marsh Wear

Redfish Logo Trucker Hat in Rock Copahee Camo, available from Marsh Wear, $29.00
The five-star rated logo hat will delight even the most distinguished redfish enthusiast. 
Created by Lowcountry native Logan Roberts, Marsh Wear was founded over ten years ago in a small Charleston attic. The brand offers clothing and gear built to endure all of your outdoor adventures. 
---
For the Fashion and Beauty Lover
Keep reading to see our top choices for unique local gifts even the most sophisticated fashionistas and beauty gurus will adore. 
---
Stylish Handmade Earrings from Penelope Design Studio
Leather Tassel Earrings, available from Penelope Design Studio, $45.00
Handmade in James Island, each piece of jewelry is produced from only two materials: 100% copper and 100% leather/suede.
Sarah Kay Yawney had always dreamed of not only making handmade jewelry but also owning her own small business. In 2017 she took the leap and founded Penelope Design Studio. In April of 2021, Sarah decided that after 10 years of working for Anthropologie as a Display Artist, it was time to pursue her dream full-time.
---
Yummy Body Butter from Deep Steep
Strawberry Plum Body Butter (6oz), available from Deep Steep, $15.95
The ticket to ultimate hydration is Deep Steep's Body Butter. This luxurious product delivers not only a lightweight and silky soft texture but will also keep your body nourished all day. 
Deep Steep is owned and operated by Royal Labs Natural Cosmetics, located in Charleston, SC. The company was founded by husband and wife duo Paul and Peggy Lieber.
---
Gift Card to House of Sage
Gift Certificate, available from House of Safe, $20.00 or $40.00
Not sure what to get your favorite fashionista this holiday season? You can never go wrong with a gift card, especially to House of Sage, which has all the latest trends! This physical gift card can be spent inside either of their two Charleston area locations.
Founded in 2009 by husband-and-wife duo Chris and Erin Abagnale, House of Sage is in Downtown Charleston on George Street and now in Daniel Island as well. They have fabricated an instinctively chic boho boutique where everyone can find something!
---
For the Coffee Snob
Wondering what to give the coffee enthusiast on your holiday list? Discover our selections for gifts ideas perfect for your coffee-loving friends or relatives.
---
Delicious Local Coffee from Charleston Coffee Roasters
Kiawah Organic Blend, available from Charleston Coffee Roasters, $14.75
Available for one-time purchase or on a subscription basis, the Kiawah Organic Blend from Charleston Coffee Roasters is a delicious gift for your favorite coffee fan.
Charleston Coffee Roasters was founded in 2005 in Charleston, SC. Since then, the company has grown immensely and is well-loved in the Charleston area. Charleston Coffee Roasters selects the world's best coffees and roasts to order to guarantee freshness. 
---
 Natural Coffee Scrub from Lumi
Coffee Sugar Scrub, available from Lumi Basics, $22.00
Packed with antioxidants and caffeine, this 100% natural coffee scrub vows to rejuvenate and firm your skin. This product is made with natural ingredients like organic coffee grounds, cane sugar, and cedarwood essential oils, so you can feel good about gifting this non-toxic, sustainable scrub.
Known for its minimalistic approach to skincare, Lumi Basics is a local company with a mission to make skincare simple, accessible, and eco-friendly. 
---
 Charleston Map Mug from Shop Southern Cities
Charleston Map Mug, available from Shop Southern Cities, $12.50
Showcasing Charleston hot spots like the Ravenel Bridge, Rainbow Row, and Shem Creek, this gorgeous map mug is perfect for your favorite coffee drinker. 
Founded by local custom stationery creator/graphic designer, Sarah of Dodeline Design, Shop Southern Cities sells goods featuring your favorite southern cities. Sarah's illustrations of buildings, skylines, and scenery lend themselves perfectly to gift items like this adorable mug. 
---
For the Jet Setter
Read on to see our curated selections for the globetrotter in your life. No matter if they have plans to travel near or far, there's a suitable gift from a local company. 
---
 Kiawah Island Vacation Rental from Akers Ellis
Vacation Rental Stay, available from Akers Ellis, amount varies
Give the gift of a vacation to Kiawah Island this holiday season. Whether you want to surprise your spouse with a romantic getaway or your parents with that family reunion they've been dreaming of, you're sure to steal the show with this gift!
Established in 2007, Akers Ellis is a family-run real estate and vacation rental company located in Johns Island. With 220+ vacation rental options on Kiawah Island, there's no doubt you'll find the vacation rental home, villa, or cottage of your dreams!
---
The Perfect Weekender Bag from J. Stark
Catawba Weekender, available from J. Stark, $385.00
J. Stark's alternative to the traditional duffle, the Catawba Weekender, is perfectly equipped for two-to-three-day excursions, or more for expert packers.
Located in downtown Charleston, J. Stark is a local bag and luggage brand offering products that they call "aesthetically minimalistic and highly functional." The brand started from humble beginnings with a small brick building on Coming Street. Now, J. Stark has a storefront on King Street and their own factory, allowing them to exercise total quality control and craft only the finest products.
---
Chic Passport Cover from Charleston Engravers
Personalized Passport Cover, Charleston Engravers, $19.99
Each custom passport cover will be engraved with your personalization into the front cover in their South Carolina studio. They also have additional pockets inside for other travel essentials.
Charleston Engravers was founded over 20 years ago by husband-and-wife team, Dennis and Nancy Solomon. They began their business with a mission to create unique gifts worthy for the most special people in your life – "If it's worth giving, it's worth engraving!"
---
Shop Local this Holiday Season
We hope our curated selection of local products has helped you on your quest to find the perfect gift! With so many incredible local companies and brands in the Charleston area, the options for shopping local are endless. We encourage you to shop small and support local businesses, not only during the holiday season but also year-round!